Murder charge after student stabbed in Stoke-on-Trent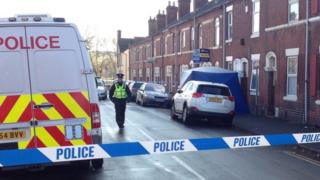 A 68-year-old man has been charged with the murder of a woman who was stabbed at her flat in Stoke-on-Trent.
Eni Mevish, 20, was found injured outside a property in Cauldon Road in Shelton at about 21:30 GMT on Sunday.
The Staffordshire University crime science student has family links to the Manchester area.
David Marshall, of Stoke-on-Trent, is also accused of wounding a 22-year-old man from Wolverhampton. Both victims had been stabbed, police said.
'Tragic loss'
A spokesman for North Staffordshire Magistrates' Court said Mr Marshall, of Birks Street, Stoke, had been remanded in custody to reappear at Stafford Crown Court by video-link on Thursday.
The victim was studying for a degree in Policing and Criminal Investigation.
In a statement issued by Staffordshire Police, Prof Andrew Jackson, who lectures in forensics and crime science, described the 20-year-old as an able and hard-working student.
Prof Jackson said: "We are greatly saddened by the news of the death of Eni Mevish.
"This is a tragic loss and we offer our sincere condolences to her family and friends.
"Eni was a warm-hearted person and an able, enthusiastic and conscientious student. She was a very popular member of her cohort."