Stoke-on-Trent streets to be named after World War One heroes.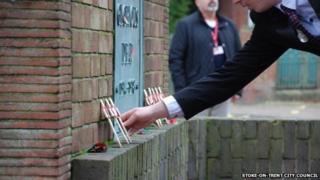 Thirty-one new streets in Stoke-on-Trent are to be named after local servicemen given medals for bravery in World War One.
The city council said the first four would be recognised on roads in the Smithfield central business district.
The 27 others will be in new developments built across the city over the next four years.
The city council said more war heroes could be honoured with road names in the future.
Nominations can be made through BBC Radio Stoke and the Sentinel newspaper, which will announce the chosen names once family members have approved the plans.
The partners have used records to identify the 31 decorated servicemen to honour, but Stoke-on-Trent council leader Mohammed Pervez said nominations were also welcome for heroes outside the military; such as miners, nurses, doctors and munitions workers.
"It is the ordinary people who pay the price of war and we must remember them," he said.
Mike Smith, from Smithfield developer Gener8, said he was proud the area would have "streets that our heroes would be proud of".
Stoke-on-Trent will also honour its two World War One Victoria Cross recipients, with paving stones near the homes of Ernest Albert Edgerton, from Longton, and John Harold Rhodes, of Packmoor.
A total of 628 Victoria Crosses were awarded during the war and all the recipients are commemorated in the National Memorial Arboretum in Staffordshire.
All 888,246 British and Commonwealth soldiers who died during World War One were represented by ceramic poppies at the Tower of London.
Many of these were hand made in Stoke-on-Trent by Johnson Tiles and Potclays.