'World War One trench' built in Stoke-on-Trent city centre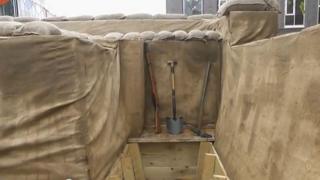 A replica World War One trench has been built in a city centre to give people an insight into the conflict.
Stoke-on-Trent City Council has constructed the £11,000 trench next to the Potteries Museum and Art Gallery.
The trench, which will be open daily from Friday until 2018, forms part of the city's commemoration of the centenary of World War One.
The Royal British Legion said it thought the council's project was "interesting".
'Rats and shellfire'
Military historian Andrew Robertshaw, who was an adviser on the film War Horse and helped design the trench, said it was a way of helping to educate teachers and students about the war.
"We can say to people: 'Think about what it might have been like for your grandfather, your father, your uncle," he said.
"We can't recreate the rats and the shellfire but, frankly, Hollywood does that really well.
"What Hollywood doesn't represent is the day-to-day reality of the routine.
"Here, we can get people in that dugout and get them to sit down and think about what it would be like to be three metres underground."
The trench contains replica rifles, grenades and gas masks, which members of the public will be able to handle.
Sheila Pitt, who sits on the Labour-run council, said: "It does give you an insight into how those poor soldiers would have lived.
"It's horrific when you think about it. I'm sure when children come here, they will still feel the atmosphere and the coldness of the whole place."
Charlie Stewart, the council's assistant chief executive, said: "This is very important for the city as part of the commemoration of World War One.
"Although we can't make it exactly like the trenches, we can give people a view of the horrors that were part of the war."