Fauld explosion 70th anniversary: New memorial unveiled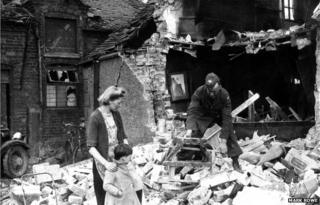 A memorial has been unveiled to mark the 70th anniversary of an explosion at an underground bomb storage depot that killed 70 people.
On 27 November, 1944, around 4,000 tonnes of bombs stored at RAF Fauld in Staffordshire exploded.
The force of the blast left a 400ft (120m)-deep crater in the Staffordshire countryside, which still exists.
About 100 people attended the unveiling of the new memorial, at the entrance of British Gypsum, near the blast site.
It is the second monument erected in honour of those killed.
The first, installed in 1990, stands on the edge of the crater, about half a mile from the village of Hanbury.
Witnesses and their relatives gathered at the Cock Inn, Hanbury.
The pub had to be rebuilt when a piece of debris was thrown around three-quarters of a mile from the site of the explosion, seriously damaging the building.
It now marks the start of a tourist trail towards the so-called Hanbury Crater, where a memorial to the dead is situated.
A witness's story
Valerie Hardy was eight years old when the munitions dump at Fauld exploded. She recalled being at school on the day of the blast.
"We heard this enormous bang. People didn't know what was happening," she said.
"The teacher settled us down... the next thing I knew was my father had phoned the school to explain.
"He had been walking up the drive of our farm, about half a mile away from Fauld, and suddenly there was this enormous blast.
"He turned round to look and saw this great mushroom cloud, the sky was dark.
"What he didn't realise until later was all the glass in the house was absolutely shattered.
"Two of our friends who were also at school were living and farming over the dump.
"They had no home to come back to after the explosion."
A memorial service was held at St Werburgh's Church at 19:30 GMT.
Journalist Mark Rowe has been researching the explosion for nearly 30 years, and published a book about his findings.
He said the blast was thought to have been about one-fifth of the force of the nuclear bomb dropped on Hiroshima.
An RAF inquiry into the explosion, which was only published in 1974, found it was an avoidable accident, Mr Rowe said.
"The most likely explanation, according to the report, was that someone tried to remove an exploder pocket (part of the detonation mechanism) with a brass chisel," he said.
"That caused a spark which set off the reaction."
Of the 70 people killed, he said, 18 were never found. The largest loss of life occurred not at the RAF base, but at a nearby plaster board factory.
The Fordes and Sons site was swamped by a "tidal wave" of sludge which engulfed it when a reservoir burst its banks in the explosion.