Fenton Town Hall campaigners resist eviction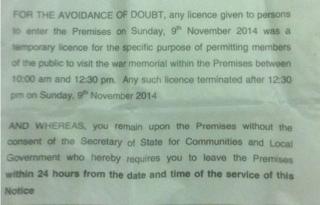 Campaigners served an eviction notice from a town hall they are trying to prevent being sold have remained in the building - and opened it to the public.
The Ministry of Justice (MoJ) has put Fenton Town Hall in Stoke-on-Trent on the market for £500,000.
Save Fenton Town Hall action group wants the former magistrates' court to be used for exhibitions, meetings and local businesses.
The group has now started holding coffee mornings, book swaps and talks.
Members of Save Fenton Town Hall, who describe themselves as custodians rather than protesters, have been occupying the hall round the clock since 9 November.
They were told to leave by the MoJ earlier this week, but have not done so, saying negotiations were ongoing.
Campaigners have argued a sale could put at risk a World War One memorial inside.
Robert Flello, MP for Stoke-on-Trent South, said in a Parliamentary debate last week that the war memorial, which lists the names of 498 men who died in World War One, needed to be protected.
The MoJ said a covenant would make sure the memorial would be preserved.
But one of the campaigners, Jane Jones, said: "My great-grandfather is on that memorial. A covenant means if developers damage it they will be fined.
"If it's gone it's gone forever, regardless of any fine."
Regeneration charity Urban Vision North Staffordshire met MoJ representatives last week to discuss a community asset transfer - where the ownership of a public sector building is given to a community group for less than market value.
Under-Secretary of State for Justice Shailesh Vara said Urban Vision had "not submitted a viable proposal for returning the building to community use" but had until the end of November to do so.
Dave Proudlove, from Urban Vision, said he was focusing on getting plans together to show the hall "could secure its own income" and he was "determined the building would return to the community".