Oakamoor B&B could stay closed after sink hole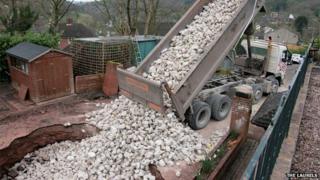 A bed and breakfast damaged by a sink hole more than eight months ago could remain closed indefinitely, its owners have said.
The sink hole, measuring more than 10ft (3m) wide, appeared at the property in Oakamoor, Staffordshire, in April.
It has been filled with rocks, but is still waiting to be injected with a mix of ash and cement.
A landslide that started almost a year ago, meanwhile, is still continuing to damage the B&B, owner Phil Tester said.
"The landslip's got worse. It's affecting along the whole front of the house," he said.
"We've done one season of trading and we've been closed ever since. We've just been sitting here, you can imagine the stress of it."
In recent weeks, Mr Tester said he had discovered collapsed drains, putting toilets out of action, and further cracks around the sink hole.
Stabilise land
The business was originally expected to reopen in October and Mr Tester said he had received countless "broken promises" on when the engineering work would be finished.
Work now planned for the new year includes repairs to shore up the landslide, expected to cost insurers £2m.
Mr Tester and his wife Helen bought the B&B in 2013 and invested £50,000 refurbishing rooms.
Between April and November of that year it attracted 2,500 guests.
Insurers have covered loss of earnings at the business, but Mr Tester said its future looked bleak.
He said he had been told any new policy, from March, would depend on a retaining wall in another part of the property being replaced and the land behind it stabilised - expected to cost the Testers about £100,000.
"It's £100,000 we haven't got," he said.
"The business hasn't been earning and we won't be able to borrow the money because we can't use the building as collateral."