Staffordshire Police to get tablet computers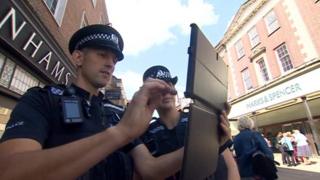 Police in Staffordshire are to be given tablet computers in a bid to get more officers on the streets.
Matthew Ellis, Police and Crime Commissioner (PCC) for the county, claimed the rollout in April would "fundamentally transform" policing.
He said using the computers to access information and input data would free up about 5,000 man hours a week, or the equivalent of 100 extra officers.
The project is expected to cost £500,000.
Currently, front-line officers spend about six out of every 10 hours in communities, rather than at police stations, Mr Ellis said.
Using tablet computers is expected to take that up to almost nine out of 10 hours.
He said the technology was also expected to reduce the number of mistakes and incomplete reports.
"It's about police being given more time to do what they want to be doing and what the public want them to be doing, which is out-and-about policing," Mr Ellis said.
'Radical overhaul'
He said the project would cut the number of times officers have to return to police stations for both information and to enter reports and statements.
Instead of taking taking statements on paper and later transcribing them on up to to six different systems, officers would write statements directly on the tablets and then upload them to a central server.
Mr Ellis said the force took about 200,000 statements a year.
Investigators will also be issued with the tablets, while the PCC said they could prove a "real game-changer" for forensics.
"I have to say police technology across the country is not good, it's not what you'd expect in nearly 2015.
"So a radical overhaul of the way technology is used, the way it works, will fundamentally improve policing and get more police out and about for more of the time.
Mr Ellis said the use of tablets was part of a wider focus on technology and IT systems that he said was expected to cost £46m over the next seven years.