Royal Stoke University Hospital: A&E struggle 'to continue'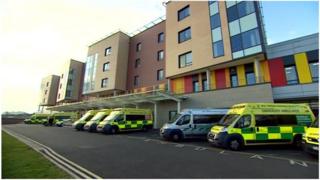 A Stoke-on-Trent hospital says pressures on its accident and emergency department look set to continue into the new year.
The Royal Stoke University Hospital said patients had to wait for up to six hours to be seen, following "unprecedented demand" over Christmas.
The hospital said it faced a "real struggle" to cope with patient numbers because of a lack of resources.
The Department of Health said hospitals had extra funding for A&E pressures.
The University Hospitals of the North Midlands (UHNM) trust, which runs the hospital, was given £5.5m in November to tackle delays.
In the same month, the Royal Stoke was found to have the second longest wait in the country for the most serious injuries.
In October, 46 patients had to wait more than 12 hours for treatment.
The government aims for 95% of patients to be seen within four hours of arrival at A&E.
Hospital 'overwhelmed'
Dr John Oxtoby, medical director at the Royal Stoke, said patients had had to wait for "significant periods of time" over Christmas.
"We had a much worse time than we hoped for and we regret this," he said.
"I think a combination of bad weather and the various viral infections that are around made things very difficult."
He said he thought things would be "very tough" for the hospital over new year period.
"We will cope, but it's going to be a real struggle," he said.
"We perhaps do not have the resources to cope as well as we would like.
"Our hospital is overwhelmed by patient numbers."
UHNM was formed last month to run both the Royal Stoke and scandal-hit Stafford Hospital, which was at the centre of a £6m public inquiry into care failings.
The trust which ran Stafford - the Mid Staffordshire NHS Foundation - was dissolved.
The Department of Health said: "The NHS has ensured there are plans in every area to manage the extra demand."
It said it was not able to comment on how resources were allocated during the reorganisation of Staffordshire's NHS trusts.