Sir Stanley Matthews' daughter Jean Gough in New Year Honours list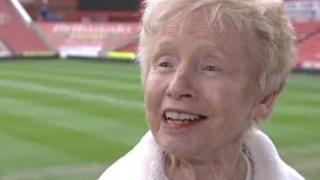 The daughter of football legend Sir Stanley Matthews has been recognised in the Queen's New Year Honours.
Jean Gough, 75, of Newcastle-under-Lyme, Staffordshire, becomes an MBE for services to children and sport through the Sir Stanley Matthews Foundation.
Mrs Gough said she felt the honour was "really for the foundation" and for the thousands of children it had helped.
Society of Chief Librarians president Janene Cox, of Tutbury, Staffordshire, is among those appointed OBE.
Ms Cox was recognised for services to libraries.
'So thrilled'
Mrs Gough said her main voluntary foundation work was arranging courses for coaches, such as with the Football Association, and organising grants for youngsters to have coaching.
She was a professional tennis coach training children in South Africa for 14 years in the 1970s and 1980s and a PE lecturer at the former Blackpool technical college in the 1960s.
Mrs Gough, who will be 76 on New Year's Day, is the foundation's patron and has been with the group for 14 years.
Of her honour, she said: "My first reaction was 'what for?' I just couldn't believe it.
"I'm so humble and very proud as well, especially because I know it's recognition for the foundation which I think is marvellous."
She said her father, who died in 2000, would have been "so thrilled" by what the foundation had achieved in giving more young people more access to sport.
"[He coached children] all over the world. He's still remembered in South Africa for what he did there...from the 1950s to the 1990s.
"[He was] a very lovely dad, very strict but in a nice way - really good."
Those appointed OBE also include Wade Ceramics Ltd managing director Paul William Farmer, of Blythe Bridge, for services to international trade and the ceramics industry in Stoke-on-Trent and MIRA Ltd chief executive officer Dr George Thompson Gillespie, of Tamworth, also for services to international trade.