Margaret Lamberty death: Stoke General Hospital apology rejected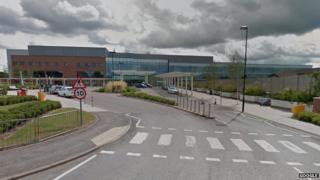 Relatives of a woman who died in hospital have dismissed an apology from a health trust for its "poor care".
Margaret Lamberty died at the City General hospital in Stoke-on-Trent in April from a medical condition that affects the small intestine.
Mrs Lamberty's daughter Laura, said her family thought a report had missed out some details of failings in her care.
The trust admitted the 45-year-old's treatment fell "below the standards that are acceptable".
Photos of Mrs Lamberty doubled up in pain in the hospital were featured in national newspapers.
'No excuse'
She died in April last year, from mesenteric ischaemia, which affects the small intestine, the University Hospitals of North Midlands NHS Trust said.
An independent review of the case said the condition was "notoriously difficult to diagnose", but criticised "the failure to develop an active management plan" for treating Mrs Lamberty.
It also found shortcomings in the way the hospital had kept records in the case.
Dr John Oxtoby, from the trust, said: "It is clear the trust has lessons to learn in terms of patient care, pain management and record keeping. We are determined to ensure these lessons are learned."
Mark Hackett, the trust chief executive, said: "While Mrs Lamberty's condition was notoriously difficult to diagnose there is no excuse for poor record keeping and even less for poor care."
Laura said however, her family felt the review had not properly detailed failings on the part of the hospital.
"They missed out the parts where she could have been saved if she was seen," she said.
"All the symptoms were there."
The case has been referred to the General Medical Council, the trust said.