Paving repairs in Stoke-on-Trent £4.5m scheme to start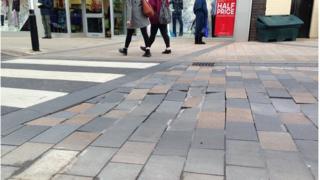 Work to repair damaged paving in a £4.5m Stoke-on-Trent regeneration scheme will start next week, the council has said.
Some of the new paving on Stafford Street, Hanley, has "moved", leading to cracks.
The road will be closed for a fortnight while the council carries out investigations.
Bus companies warned there may be delays on services while the work takes place.
'May be hold-ups'
The council said it had timed its work to coincide with repairs being carried out by Western Power in the area.
Martin McGowan, from First Potteries bus company, said six services could be affected.
"Basically, if you would normally get off on Stafford Street, you won't be able to," he said.
"Unfortunately if buses do get delayed, there may be hold-ups further on in the journey."
The so-called public realm scheme, which includes work on Parliament Square, road and pavement reconstruction and new lighting and tree planting, forms part of the council's aim of making Hanley feel like Stoke's "city centre".
The project, which has been going on since 2012, is due to be completed in October.