Swans on loose on M6 Toll motorway near Burntwood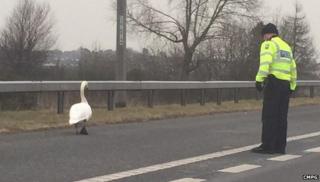 A family of swans forced the closure of a motorway in both directions.
The three birds were spotted roaming on the M6 Toll by junction T6, near Burntwood, at about 11:30 GMT.
Police had to close the northbound and southbound carriageways while they recovered them.
A police spokesman said it was believed the swans had mistaken the motorway for a river. Tailbacks stretched for "less than half a mile", he said. The road was reopened by 12:00.