'Lost' Staffordshire canal lock rediscovered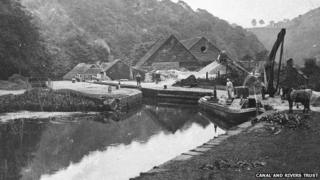 A canal lock that has been "lost" for about a century has been rediscovered, a charity has said.
The Canal and River Trust discovered the 240-year-old lock at Consall Flint Mill, in the Churnet Valley, in Staffordshire, buried beneath vegetation.
Glyn Parkes, from the trust, said the lock had been replaced in about 1885 and the canal diverted.
"A lot of people had heard of it but nobody knew where it was," he said.
"A man who has lived here for 70 years and walked past the site every day didn't even realise it was here. It was completely buried beneath vegetation.
"All you could see of it was an old railing, so we got the spades out and started digging."
The lock, which dates back to 1775, was part of the Caldon Canal, which ran between Etruria, in Stoke-on-Trent, and Uttoxeter, he said.
The route was used to carry flint from the mill to the potteries.
It was replaced following subsidence.
The trust said on Tuesday the lock was uncovered as part of a six-week project during December and it plans to make it accessible to visitors.