Rugeley car crash driver 'lucky to be alive'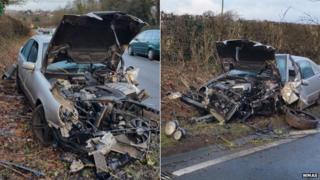 A man "is lucky to be alive" after the car he was driving crashed into a tree in Staffordshire, an ambulance service has said.
The crash happened on the A51 in Longdon, near Rugeley, at 07:00 GMT.
The driver, thought to be in his early 30s, suffered serious leg, pelvic and chest injuries.
"Considering the damage to the vehicle the man is fortunate not to be more seriously or even fatally injured," West Midlands Ambulance Service said.