Toilets kept open as £27m Stoke-on-Trent budget set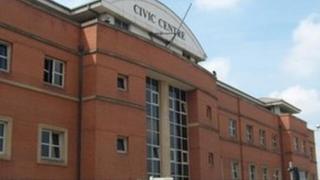 Spending cuts of £27m have been approved by councillors in Stoke-on-Trent.
Disabled drivers will now have to pay to park, but public toilets will remain open and school crossing patrols kept.
Councillors at the Labour-controlled authority approved the 2015-16 budget on Thursday evening.
Leader Mohammed Pervez denied any scaremongering ahead of the general election in May, saying the proposals were genuine.
He said subsequent concerns raised by residents were also genuine and when they were discussed at next year's budget meeting, councillors "will have taken on board the residents' views".
'It's hogwash'
"We can't carry on providing everything everyone wants," he added.
"The money just isn't there. People understand that. We are working together to prioritise and balance the needs of communities today with the vital job of investing in the future."
Councillors agreed on Thursday to keep the meals-on-wheels service for vulnerable adults and no changes will be made to mental health services for children but that will be kept but under review.
The authority said in December that about 500 jobs were under threat as it looked at a complete "service redesign" with the help of accountants Pricewaterhouse Coopers (PWC).
About £10m of savings is expected to come from the work PWC is doing, £10.6m by council staff "being more efficient in the way we work" and £865,000 by changing the way contracts are procured, the council said.
More than £5m will also be saved by changing the way the authority collects council tax and borrow money and invest it.
The council said it was still not clear yet how many jobs would go as the work was still on-going.
Councillors also agreed to invest £288.16m over the next five years by spending £21.7m on primary schools, £20m on infrastructure and £3.6m on adult social care services.
But Dave Conway, City Independent leader, said there was a lack of detail around the budget which he described as "hogwash".
Jack Brereton from the Conservative group said the "pleas or calls of local residents" had been ignored.