Medium Timothy Abbott jailed for disability benefits scam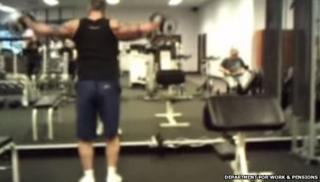 A spiritualist medium who worked out in the gym while illegally claiming disability benefits has been jailed.
Timothy Abbott, 54, from Stafford, claimed more than £58,000 in disability benefits and failed to pay almost £10,000 in Income Tax and National Insurance.
He was jailed for eight months after admitting four counts of fraud.
Meanwhile his wife Jeanette who admitted fraud totalling £103,000 was given a suspended eight month sentence.
'Blatant disregard'
Staffordshire County Council said Abbott, who toured the world as a spiritualist medium, was a regular gym member and claimed disability benefits he was not entitled to for five years.
A court will decide later in the year how much the couple will have to pay back.
Alan White, Staffordshire County Council's cabinet member for health, care and wellbeing welcomed the convictions at Stoke-on-Trent Crown Court on Thursday.
"It is extremely disappointing to see that someone has shown blatant disregard for others who depend on this money," he said.