Phil Taylor calls for darts to return to Stoke-on-Trent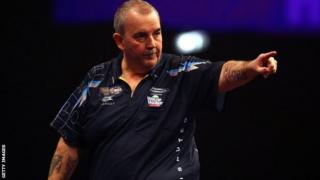 Record World Championship-winning darts player Phil Taylor has called on his home city to build a venue to allow him to play in front of local fans.
Taylor - known as "The Power" - was born in Burslem, Stoke-on-Trent, but has not been able to play in the city for 10 years because of a lack of suitable facilities.
He asked the city council to build a site to host darts' biggest events.
The council said any such project would be reliant on private sector funding.
Councillor Ruth Rosenau said: "In the last four years we have had to make savings of £97m and recently agreed our budget for the year ahead, which included savings of £26.9m".
Ms Rosenau also suggested the Professional Darts Corporation "see what in the city we have to offer".
'Love to come back'
Taylor said the city's biggest venues, such as the King's Hall, lacked the capacity to host Premier League matches.
Cities that are hosting league matches this season include Nottingham, Glasgow and Leeds.
"The King's Hall holds about 850 and we are looking at attracting around 10,000 - that's the problem," he said.
He called on the council to "build a big venue, like the NEC".
"Why not invest in a big property for us? They've got the money," he said.
The city is also home to two-time World Darts Champion Adrian Lewis, while Eric Bristow lives in nearby Leek, in Staffordshire.
Dave Allen, from the Professional Darts Corporation, said the organisation, "would love to return to the city".
"Phil has been pushing for this for a long time," he said.
"It's 10 years since Phil was able to play here professionally and the size of venue we need has probably outgrown what Stoke has available at the moment.
"Should other venues in the area be built, we would obviously look to come back because there's a great appetite for darts and we know this area produces great players."