Fenton pub The Musician damaged in car crash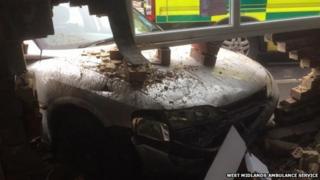 A car has crashed into the front of a pub in Stoke-on-Trent.
It hit The Musician, on City Road, in Fenton, shortly before 08:00 GMT, sending bricks inside the building.
The driver, a 63-year-old man, had to be cut free from the car and was taken to hospital, but suffered only minor injuries, West Midlands Ambulance Service said.
Diane Cawley, whose partner owns the pub, said it was not clear how long it would remain closed.
"We still don't know the extent of the damage yet to the building," she said.
"The building's in a hell of a mess. We've just decorated all the way through, the windows were all replaced three or four months ago."
Despite the damage, Ms Cawley said it could have been much worse if the car had hit an hour later, when children would have been walking to the nearby school.
She said there had been a number of crashes on the road and called for railings to be put up along the pavement.