Lay-by birth mum blames NHS changes in Stafford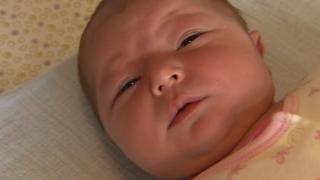 A woman who gave birth in a lay-by en route to hospital in Staffordshire is blaming a relocation of maternity care.
Sarah Doughty, from Stafford, stopped on the A34 - on her way to Royal Stoke University Hospital - as her husband and sister delivered the baby girl.
Consultant-led services were moved from the former Stafford Hospital in January which the couple campaigned against.
But the trust, which runs both hospitals, said labour could not always be planned for.
Distance from Doughty's home
To County Hospital, Stafford = 2.6 miles (4.2km)
To Royal Stoke University Hospital = 17.5 miles (28km)
Source: AA Routeplanner
In a statement, University Hospital North Midlands NHS Trust (UHNM) said: "Whenever we have a baby born before arrival at the unit we will investigate fully to ensure that appropriate guidelines were followed."
Baby Charlotte, who was born last Wednesday, was the second in a week to be born on the way to hospital in Stoke-on-Trent since maternity services have been moved.
A child was born on the M6 four days earlier.
Mrs Doughty said her baby was gurgling but not breathing initially and the ambulance operator told her husband, Neil, and sister to rub her and keep her warm to revive her.
Charlotte had recovered and was in her mother's arms when paramedics arrived.
"I can joke about it now because everything is OK but it could have been worse," Mrs Doughty said.
Campaigners have said patients' safety could be put at risk from the changes to maternity services.
UHNM took on the County Hospital, formerly Stafford Hospital, last October, after the previous hospital trust was declared clinically and financially unviable.
The hospital was at the centre of a major public inquiry into care failings from 2005 to 2008.