Cheshire towns limit number of 'charity muggers'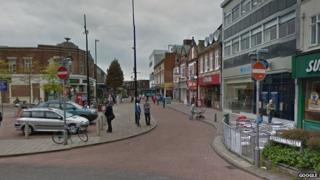 A limit on the number of "charity muggers" who use aggressive tactics to fundraise is to be imposed in six Cheshire towns.
Also known as "chuggers", they collect money for charity after obstructing or following people on the street.
The limits, to be brought in by Cheshire East Council on 22 June, will apply to Crewe, Nantwich, Macclesfield, Congleton, Knutsford and Wilmslow.
The council said the new rules would "protect people from harassment".
Current rules by the Public Fundraising Regulatory Association (PFRA) already prevent charity collectors following a person for more than three steps or deliberately blocking their path.
Rather than using traditional collecting tins, "chuggers" persuade people to set up a direct debit, which the PFRA has said brings in up to 600,000 new regular donations each year.
The number of fundraisers will be limited to four in Crewe and Macclesfield, three in Congleton, and two in Nantwich, Knutsford and Wilmslow. They will be allowed to operate between 09:00 and 19:00.