Royal Stoke University Hospital fails to meet annual targets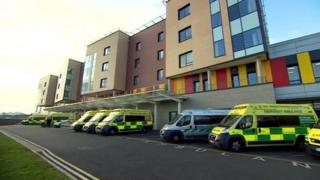 A hospital has failed to meet annual targets for cancelled operations and cancer treatment.
Royal Stoke University Hospital also failed to achieve the national standard for seeing patients with suspected cancer after urgent referrals from GPs.
In all, it failed four out of eight cancer targets, a meeting of University Hospitals of North Midlands NHS Trust heard on Friday.
The hospital has promised to meet standards by the end of the month.
It gave the commitment to the NHS Trust Development Authority, which oversees trusts in need of improvement.
'Intense pressure'
By the end of the financial year a total of 89.3% of people had their operations within 18 weeks of a first consultation, compared with a national target of 90%.
In one type of referral from GPs, in which people are meant to be seen at a hospital within 62 days for a cancer diagnosis, the hospital achieved this 80.4% of the time, compared to the national standard of 85%.
Lung cancer patient Ted Highfield, 81, from Cannock, has had two diagnostic procedures cancelled, two operations cancelled because of a lack of beds and two further operations cancelled because he was too ill to undergo the procedure.
"I've witnessed a lot of things and under no circumstances would I ever blame staff but the National Health Service, in my opinion from what I've seen in the last six months, it's in a terrible state," he said.
The hospital said it had been under "intense pressure" with 30% more patients over 75 with complex problems having to be admitted to hospital.
Chief executive Mark Hackett said: "We've had a tough winter like a lot of hospitals and our performance during that period for elective [non-emergency] work and some of our routine work suffered because we prioritised the needs of emergency patients.
"But we've bounced back and in May we'll achieve most of our objectives."
The trust board heard national targets for A&E waits and infection control had also been missed, although long trolley waits had dropped from a peak of 441 in January to just seven in March.