Rugeley Power Station closure plan puts 150 jobs at risk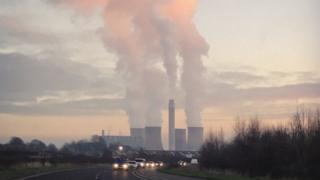 A power station in Staffordshire is set to shut leaving 150 jobs at risk, its owner has confirmed.
Rugeley Power Station is to close as a result of the "deterioration in market conditions" for coal-fired power stations in the UK, Engie said.
It could result in the loss of all 150 jobs, but the firm said it would look for opportunities to redeploy staff.
The 46-year-old station has been hit by a "continued fall in market prices" and increases in carbon costs, it added.
"Under such conditions, there is no prospect of the power station recovering its future operating costs", a spokesman said.
For updates on this and other stories for Stoke and Staffordshire
Engie has entered into consultation with staff.
A number of workers were expected to be required to support decommissioning and the redevelopment of the site.
'Changes unviable'
David Alcock, head of its infrastructure division in the UK, said: "It is with deep regret that we have had to make this decision at Rugeley. Our priority now is to support the employees and help them through this period.
"We implemented a number of changes at Rugeley a year ago in order to help maintain operations at the site but a combination of falling prices and the impact of various market changes has now made this unviable."
He added the firm would keep "all options for the power station under review" and thanked staff for their "loyal service".
Amanda Milling, the Conservative MP for Cannock Chase, called the announcement a "major blow" for staff and the community.
The station, also known as Rugeley "B", has been running since 1970. Rugeley "A" station, built on the same site in the 1950s, was decommissioned in 1996.
Last year, the government announced the permanent closure of all coal-fired power plants by 2025, under plans to reduce carbon emissions from the electricity sector.
The GMB union said the government and energy suppliers should "think hard" about the consequences of closing Rugeley and eight other power stations this year and "learn lessons" from 4 November when "National Grid had to invoke special measures to keep the lights on".
Phil Whitehurst, GMB national officer for engineering construction, said " Last month the Institution of Mechanical Engineers warned that the UK faces an electricity supply gap of up to 55% by 2025 because of the closure of coal and nuclear plants."