Tamworth crash driver left hanging over canal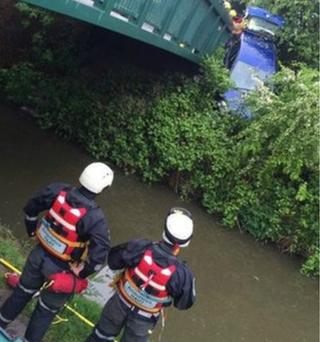 A driver who crashed through a bridge over a canal leaving her car hanging "precariously at a 40 degree angle" has escaped injury.
Her car avoided ending up in the water in Tamworth when part of the bodywork hooked onto the bridge railing, West Midlands Ambulance Service said.
Emergency crews were called to Glascote Road at about 16:20 BST on Wednesday.
The driver - a woman in her 50s - climbed out through the back window.
More on this and other Staffordshire stories
The vehicle was unstable so it would not have been safe to get the driver out immediately, the ambulance service said.
"Firefighters firstly secured the car and then removed the seats and helped the woman to climb out through the back window," said a spokesman.