Gareth Rowton jailed for life for murder of housemate in Cannock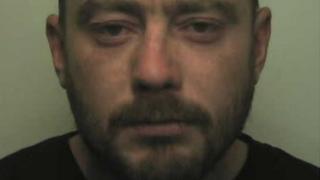 A man has been jailed for the murder of his housemate following an attack in Cannock in 2012.
Gareth Rowton, 35, who is already serving an 11-year sentence for attacking David Stanton, pleaded guilty to killing the 61-year-old.
Mr Stanton remained in care after the incident in an alleyway outside their home in Old Fallow Road and died on 29 June, 2015.
Rowton was told he would serve a minimum term of 14 years, 58 days.
'Happy, funny and intelligent'
Stafford Crown Court heard the attack took place on 9 November 2012.
More news on this and other stories from Stoke and Staffordshire
Det Insp Dan Ison, from Staffordshire Police, said: "Despite the friendship David and Gareth shared they did have what has been described as violent rows, which often resulted in injury, due to the amount of alcohol they consumed.
"On this occasion the row escalated out of control and resulted in David's serious injuries which ultimately led to his death years later."
Rowton initially pleaded guilty to grievous bodily harm with intent and was jailed.
A forensic post-mortem examination established the cause Mr Stanton's death was delayed complications of a severe brain injury.
After Mr Stanton's death, detectives were authorised by the Crown Prosecution Service to charge Rowton with murder.
"Sadly David never fully recovered from the injuries he suffered in 2012 and remained in care, and in and out of hospital, for the rest of his life," Det Insp Ison added.
"David's family are as devastated now as they were five years ago - at which point they felt they lost the happy, funny and intelligent man they once knew."