Veterans mark Falklands 35th anniversary at Staffordshire arboretum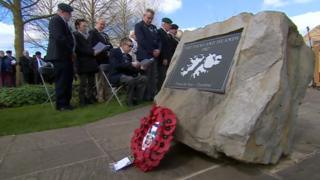 Falklands War veterans have gathered at the National Memorial Arboretum to mark the 35th anniversary of the conflict.
They, along with relatives of those who served, have been taking part in a commemorative service at the Staffordshire centre.
Two hundred and fifty five British service personnel and 649 Argentines died in the conflict.
A memorial, incorporating rocks taken from the islands, opened at the arboretum in 2012.
The conflict saw a taskforce recapture the British overseas territory in the South Atlantic after an invasion by Argentina.
The event on Sunday was organised by the South Atlantic Medal Association 1982 (SAMA 82).
More on this and other Staffordshire stories
Among the relatives was the family of Ben Casey from Stratford-upon-Avon, who was the first British servicemen to be killed in the campaign.
"Every day he's in my heart," his mother Margaret said.
"With him being the first casualty... I don't know. It's just so overwhelming."
Chris Howe, chairman of HMS Coventry Association, said he reflected on losing 19 shipmates in the attack on HMS Coventry.
It was hit by Argentine bombs and sank in 20 minutes.
"You're reminded of the shipmates you lost - certainly that I lost 19 shipmates - and that's very emotional."
The memorial was commissioned by SAMA 82 to be "a restful space for contemplation" and is designed to reflect the islands' barren landscape.
The arboretum is the home to about 200 memorials to those who serve or have died for their country.