Stafford County Hospital's A&E remains closed to children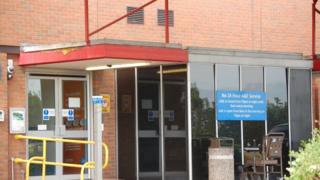 An A&E unit is to remain closed to under 18s until further notice after a review found re-opening it would be "unsafe and unsustainable".
Low numbers of staff with the right specialist training at Stafford's County Hospital forced the closure of the A&E to children last August.
The hospital's trust said a children's Minor Injuries Unit would be upgraded.
The upgrade to an Urgent Care Centre was recommended by the Royal College of Paediatrics and Child Health review.
The University Hospitals of North Midlands trust said 45% of children who arrived at the MIU, which was set up in October, had a minor illness rather than an injury and the upgrade would therefore serve patients better.
For more on this and other Staffordshire news
John Oxtaby, the trust's medical director, said the current MIU was designed to treat injuries which meant there was "a danger of a very sick child ending up in the wrong place".
Defending the continued closure of the A&E unit to children, he said: "The fact that there haven't been any events of concern so far doesn't mean that is not our duty to make absolutely sure that we don't put anyone at risk going forward and that's why we are taking these measures -we just can't take even the smallest of chances."
The A&E department is still open to adults.
The hospital, under its former guise of Stafford Hospital, was the subject of a public inquiry after a higher than expected number of deaths between 2005 to 2008.