Waste dumped in wood near Newcastle-under-Lyme cleared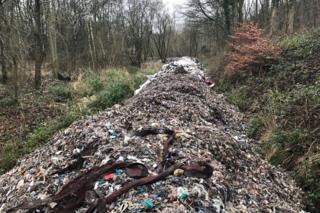 More than 300 tonnes of commercial rubbish dumped in Staffordshire countryside is being cleared.
The waste, including shredded paper and bandages, was left in Gladings Wood, Madeley Heath, and has blocked a car park and right of way into the wood.
Police and the Environment Agency have been investigating after the waste was dumped on 29 January, the county council said.
It added it was likely to be cleared by the end of the week.
Read more news for Staffordshire
Waste had to be sampled to check it was not hazardous before the removal began.
The council said the clear-up operation was being co-ordinated by the authority and supported by Newcastle-under-Lyme Borough Council and the Forestry Commission, which owns the land.
A Staffordshire-wide group including councils, the fire and rescue service and the Environment Agency is working to tackle commercial waste dumping.