Man taken to hospital after suspicious house fire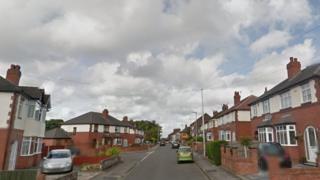 A man has been taken to hospital after a "suspicious" fire started in a back garden outbuilding.
He had to be rescued from the blaze, in Rathbone Avenue, Newcastle-under-Lyme, which affected two homes, Staffordshire Police said.
Firefighters were called at 04:15 BST, and brought the fire under control by about 05:55.
He is being treated for smoke inhalation in hospital, Staffordshire Police said.
A family in the second house escaped by themselves.