Driver jailed for killing young mum 11 years after Stoke-on-Trent crash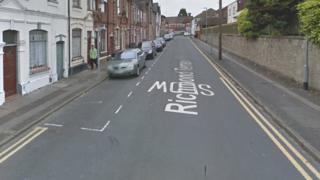 A dangerous driver who killed a young mum has been jailed for almost six years - 11 years on from the crash.
Mohammed Imran, 41, was 27 when his car veered into Musarat Khan and her two-year-old son in Shelton, Stoke-on-Trent in May, 2003.
They were knocked down, driven over and dragged under his car, a court heard.
Musarat, 31 when the crash happened, was left in a permanent vegetative state and died in a care home in 2014. Her son was left with severe burns.
Imran pleaded guilty to dangerous driving and perverting the course of justice at Stoke-on-Trent Crown Court in October 2003 and was sentenced to 21 months.
On his release Imran, a Pakistani national, was served with a deportation order.
But he left the UK voluntarily and moved to the Republic of Ireland.
When Musarat died at Scotia Heights Nursing Home, Burslem, the coroner was notified and Staffordshire Police re-opened the case, the Crown Prosecution Service said.
The service said a post-mortem revealed she died from delayed complications of the head injury which she received in 2003.
Imran was arrested under a European Arrest Warrant on January 4th, 2017 and sentenced to five years nine months in prison at Stoke-on-Trent Crown Court on Friday.
"Tragic consequences"
PC Matt Lovatt said: "This case serves to highlight the tragic consequences of driving dangerously and with no consideration for other road users.
In a statement, Musarat's devastated family said she was a "devoted and much-loved mother" who was "cruelly taken away from us".
The statement adds: "Musarat was only 31 at the time of her accident and had her whole life ahead of her, but her life was ruined due to someone's dangerous and selfish driving."
Imran, of Pretoria Road, Stoke, was also given a two-year driving ban.