Staffordshire hospital closure fear over savings cap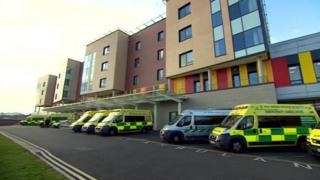 Some NHS services in Staffordshire could be stopped or a hospital shut under ideas put forward to save up to £160m in two years.
A group of senior NHS officials have devised a capped expenditure programme for the county to ensure financial targets are met.
Options include closing Cannock Hospital or the sale of NHS land or buildings.
NHS England said nothing has been decided.
It is understood the plan has been rapidly put together, in order to meet a financial deadline.
The expenditure programme affects all the clinical commissioning groups for Staffordshire. It also affects: University Hospitals North Midlands (UHNM), South Staffordshire and Shropshire NHS Foundation Trust, North Staffordshire Combined Care, Staffordshire and Stoke on Trent Partnership NHS Trust and Burton Hospitals NHS Trust.
UHNM was one of three trusts in England to be placed in financial special measures in March.. It has to save £50m this financial year, £35m in the next and a further £35m in 2019-20.
One of the many options being considered to save money is selling land at UHNM, another is the closure of Cannock Hospital.
South Staffordshire and Shropshire Foundation NHS Trust could also take over Staffordshire and Stoke on Trent Partnership NHS Trust and North Staffordshire Combined Healthcare Trust.
The ideas are still at early discussion stages and it is not yet known when any final plans would be agreed and signed off.
NHS England said: "While many options will have been considered locally, the choices of which options to pursue are still to be evaluated and agreed and would require national sign-off in due course."
Ian Syme, from North Staffordshire Healthwatch, said there was a "real need for openness".
"This has been a very secretive process considering the implication of quite extensive savings... There's no doubt this will impact on the services for patients."