Stafford plans 'could create about 6,500 jobs'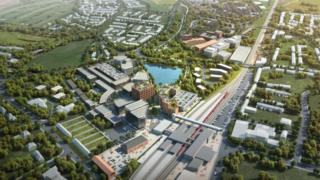 About 6,500 new jobs could be created as part of a planned £500m revamp of part of Stafford.
A hotel, office space, 650 apartments and 150 houses may be added near to the railway station, the council said.
The town is a hub station for HS2, the council added, and the Stafford Gateway Masterplan has been planned on the back of the high-speed rail project.
A report on the proposals is expected to go before the borough council's cabinet on Thursday.
Developers had shown interest in the site and leading leisure chains had expressed an interest in building a hotel with conferencing facilities, the authority said.
The 6,500 jobs would be in leisure, office, commercial and warehousing, the council said. The figure does not include people working on the construction.
Council head of economic development and planning Richard Lawrence said: "We're looking at around 6,500 new jobs and we're looking at around 750,000 sq ft of new employment office space and around [600], 700 new residential units within the town centre."
A new multi-storey car park with 1,400 spaces could be built.
The authority's leader, Patrick Farrington, said: "HS2 has presented an opportunity to deliver substantial economic growth and regeneration across the town.
"We want to ensure we have a vibrant town centre for the future - knowing that more residents and office workers in town will provide a boost to the High Street - and we will be studying these exciting plans very closely."
The council said it would work with other local authorities and government to progress plans.