Baby ashes in teddy bear 'scattered in police search'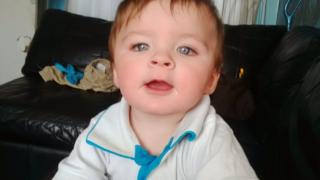 A woman was left "hysterical" when police allegedly ripped her baby son's ashes out of a teddy bear, scattering them during a search.
Officers were searching her partner's flat in relation to a stolen laptop, her solicitors said.
Chelsea Wright, of Rugeley, said she told the officers the bear contained her son Nathan's ashes.
Staffordshire Police said it would investigate the complaint as quickly as possible.
Ms Wright, who is not suspected of committing any offence, was staying at her boyfriend's home during last week's search, said Hudgell Solicitors.
"I'd been staying with James at his flat when the police arrived to search his property at about 7.45am," she said.
"We had nothing to hide so of course we let them in. James wasn't even under any suspicion as it was all in relation to somebody else."
The 23-year-old said she went into the bedroom where the bear had been left after the officers left, empty-handed.
"As soon as I walked into the room I could see white dust everywhere and I immediately knew it was Nathan," she said.
An inquest into the death of Nathan, who died suddenly at 10 months old in 2014, is still to take place.
Miss Wright said: "Having the teddy bear with me and Nathan's ashes has been important to me as it makes me feel close to him."
She contacted solicitors after police seemed unwilling to lodge her formal complaint, she said.
Her solicitor, Andrew Petheridge, said police had a duty of care to handle the bear in an appropriate manner, particularly given that Miss Wright had made an officer aware of its contents.
Assistant Chief Constable Nick Adderley, of Staffordshire Police, said he could not comment in detail as an investigation was under way.
"However, as a father myself I can understand how distressing this is for Chelsea and her family, after the tragic loss of her son, Nathan," he said.
"We will continue to do everything we can to get to the bottom of this complaint as quickly as possible."