Veronika Pugaciova is named as woman killed on A38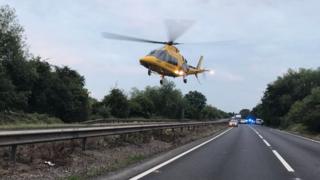 A woman who died on the A38 dual carriageway in Staffordshire has been identified by police.
Veronika Pugaciova, 33, who was from Lithuania but living in Hull, was hit by a car after leaving a van on 6 July.
Johnathon Allison, aged 39 and from Hull, was charged with breaching a restraining order and is under investigation for her murder.
He is due to appear at Stafford Crown Court on 11 August.
Ms Pugaciova left the vehicle as it pulled into a layby in Burton-upon-Trent and was hit at "high speed" by an oncoming car, detectives said.
Police said Mr Allison has been released under investigation in connection with the murder probe.