Arrests after former Stoke-on-Trent bus station fire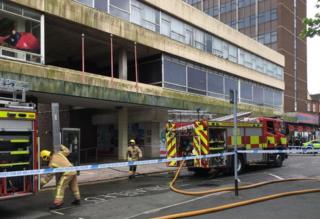 Two men have been arrested after a large-scale fire at a former bus station, police said.
A firefighter was injured whilst tackling the blaze in Stoke-on-Trent city centre when a floor collapsed and he fell through it.
The fire, which started in the early hours in a disused building Old Hall Street caused a "significant amount" of damage, police said.
Two men aged 35 and 23 have been arrested on suspicion of arson.
Read more news for Staffordshire
Sgt Ian Goodwin, from Staffordshire Police, said: "This was a major incident that could have endangered people's lives. Fortunately nobody was injured, but the fire has caused a significant amount of damage.
"I would urge people to stay away from empty buildings and to report any suspicious behaviour to the police immediately."
The fire started in the former Coral building shortly after 04:00 BST.
Glynn Luznyj of Staffordshire Fire Service said "Unfortunately during the incident one of our firefighters from Newcastle was injured, when the floor gave way in the building.
"He was taken to hospital and was assessed before being discharged a couple of hours later, with just minor injuries.
"We wish him a speedy recovery and will ensure he has the necessary support to recover from the incident."