Burglars rip rings from Stoke-on-Trent woman's fingers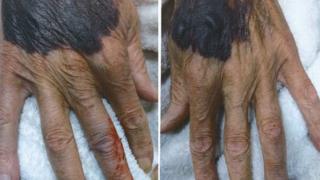 An elderly woman had rings ripped from her fingers and her own dressing gown cord tied around her neck in a violent raid in Stoke-on-Trent.
Staffordshire Police said two men left the woman badly bruised after the attack at her home in Longton.
After taking the rings, the men bound her hands with a dressing gown cord and a towel put on her head, while another cord was wrapped around her neck.
They stole cash and jewellery and fled from the house on 24 August.
Police said the attack happened on Ashwood at about 22:30 BST.
Det Con Gary Cliffe said: "We are appealing to the public for information to help our investigation in locating and prosecuting the perpetrators of this horrific crime."