Ex-MP John Hemming reveals he was sex case suspect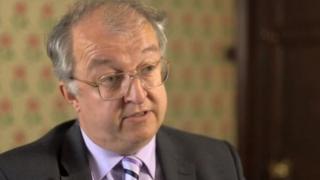 A former MP has revealed he was a suspect in a two-year investigation into claims he sexually abused a girl.
John Hemming, ex-MP for Birmingham Yardley, put a statement on his blog after prosecutors said the case against three men was being dropped.
Esther Baker, who waived her right to anonymity, alleged they were part of a paedophile ring she was sexually abused by in the 1980s and 1990s.
Mr Hemming said the allegations "had no substance whatsoever".
The Crown Prosecution Service (CPS) confirmed it had dropped the case against the three men as it failed to meet the required level of evidence.
'Campaign of vilification'
On his blog, Mr Hemming wrote: "There are many worse things that happen to people, but this was a really bad experience.
"I am normally someone who helps other people fight injustice. Being subject to an unjust campaign of vilification is something I do not wish to repeat."
See more stories from across Stoke and Staffordshire here
He thanked his partner, Emily Cox, his children and solicitor, for supporting him "through this dreadful experience".
Ms Baker said she was taken with other children to countryside in Cannock Chase in the Midlands, and raped.
Mr Hemming was interviewed under caution by Staffordshire Police in 2015. At the time the force confirmed he was not arrested.
He had always denied being involved and previously described the inquiry, which led to him being interviewed, as a "witch-hunt".
Ms Baker had also claimed uniformed police officers were present during some of her ordeals.
She has now asked for the decision to be reviewed under the CPS Victim Right To Review scheme.
'Continued support'
In a statement, Staffordshire Police said three people were interviewed under caution during the investigation, one of whom was arrested but has now been released from bail.
Supt Amanda Davies said: "It was vital we gave the victim the time, space and support she needed to disclose the information.
"Over 100 hours of interviews were conducted by specially trained officers, and throughout the investigation we have kept her informed and continued to provide support.
"In this case Esther made the difficult decision to waive her right to anonymity and we will continue to support her, as we would with all victims of crime. We want to take this opportunity to reassure other potential victims that their identity is protected by law."