Mum's missing eye Instagram post 'flooded with support'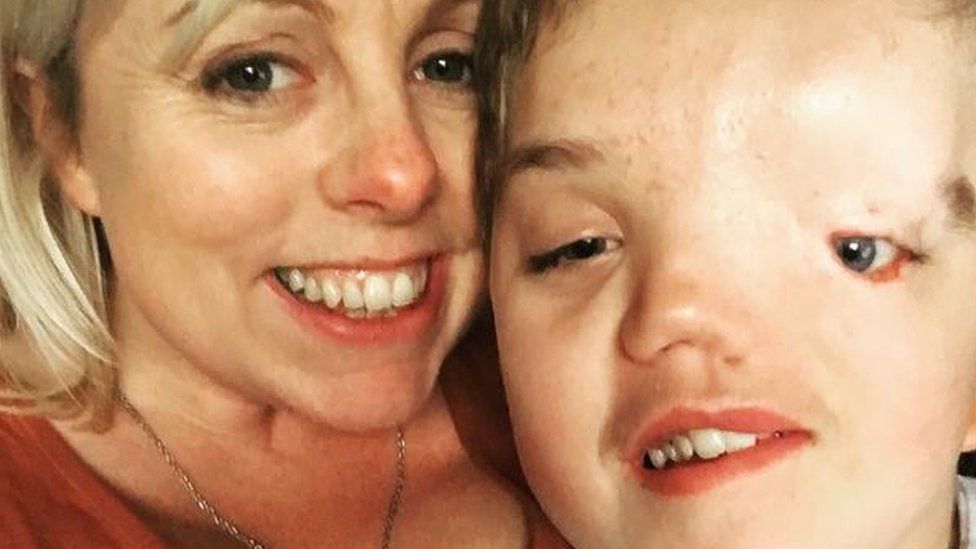 A mother said she has been "flooded with messages of support" since challenging the removal of a photo of her son from Instagram.
Charlie Beswick from Stoke-on-Trent said her "phone was melting" due to the number of messages.
The photo, since restored, showed her 12-year-old son Harry, who has Goldenhar syndrome, without his prosthetic eye.
Instagram said the photo was removed mistakenly and has apologised.
Harry was born missing an eye, eye-socket, nostril and ear from one side of his face and has had 10 operations, including two procedures to restructure his skull and build an eye socket.
Ms Beswick's tweet about her photo being removed has so far been shared nearly 110,000 times.
She said she has had "a really positive response" to the post and thanked everyone for their support.
Commenting on Facebook, Joanna Townsend said: "That little lad's face is not something to be shied away from and his mother had every right to post those pictures. Since when should a disability breach Instagram's guidelines?"
Sharron Wharmby added: "This picture is a beautiful photo of a mother and son's love and bond and shouldn't be something that gets taken down."
A spokesperson from Instagram said: "We mistakenly removed the photo, but quickly restored it as soon as the mistake was brought to our attention. We have apologised to the family."
Related Internet Links
The BBC is not responsible for the content of external sites.