Stoke-on-Trent City Council's bid to buy Iron Age gold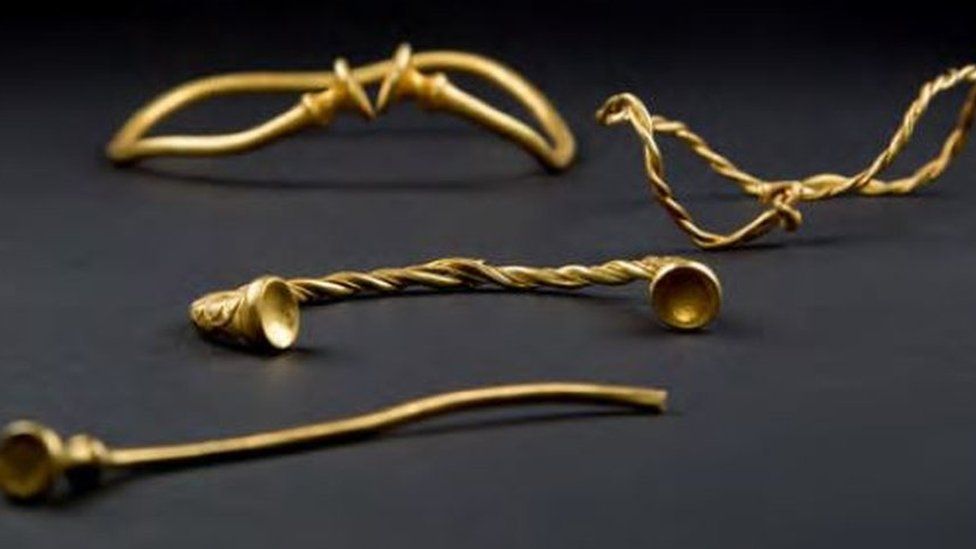 A council is campaigning to raise £325,000 to stop the "oldest" Iron Age gold found in Britain being sold to private bidders.
Stoke-on-Trent City Council has been given three months to buy the three necklaces and bracelet by the Crown.
If its bid is successful, the gold will go on public display.
'International importance'
The council has until 5 December to meet the valuation price, set by the Treasure Valuation Committee.
Council leader Dave Conway said: "It is going to take [a] big fundraising effort to ensure we can save these stunning finds."
The council said that if it failed to meet the target, the artefacts could be split up and sold to private bidders.
It hopes the gold can be displayed at the city's Potteries Museum and Art Gallery.
The torcs were found separately, about one metre (3ft) apart, buried near the surface in Leekfrith last December.
Experts believe they date back to 400BC. They are thought to be from the continent and would have been worn by important women in society.
British Museum curator Julia Farley said: "These beautiful gold torcs are a find of international importance.
"They are probably the earliest Iron Age gold objects ever found in Britain.
"Nothing like this hoard has ever been found in Britain before.
"I very much hope that this incredible find can be acquired by the Potteries Museum and Art Gallery, close to where it was carefully buried on a hilltop thousands of years ago."