Christmas card with 16,707 messages inside it awarded world record.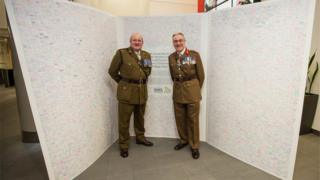 A Christmas card with 16,707 messages written inside it has picked up a world record.
The card, started by staff at the National Memorial Arboretum in Staffordshire, has been given the Guiness World Record for "most contributions to a greetings card".
The previous record-holder was Dubai Police which had a card with 13,288 signatures.
The card was started at 2016's Ride to the Wall event at the arboretum.
It then toured the UK going to schools, community groups and businesses.
Midlands Live: Teenage cyclist killed in crash named; Midlands hospitals amongst worst performing
The card inscription read: "We would like to wish all members of the armed forces a very Merry Christmas and a Happy New Year.
"They routinely risk life and limb in defence of our country and we will never be able to adequately thank them for the dedication and determination they display."
Arboretum managing director Sarah Montgomery, said "A massive thank you to everyone who supported us in achieving this Guinness World Record.
"We created this card to demonstrate the deep and enduring affection that the public have for our armed forces, who valiantly put themselves at risk daily, to protect the freedoms that we hold dear."