Staffordshire drive-by BB gun shootings injure seven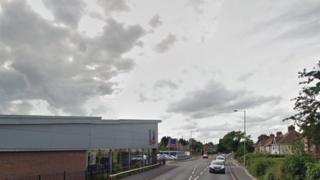 Seven people, including four teenage boys, were hurt in drive-by BB gun shootings in Staffordshire.
A group of up to four people drove around Stafford firing an automatic airsoft rifle at passers-by, hitting some in their faces, police said.
Three men, aged 47, 54, and 62, and the teenagers - three aged 14 and one 16 - were shot with white plastic pellets. One man was treated in hospital.
The offenders are described as white, with dark hair and in their late teens.
The shootings took place between 20:15 and 21:00 BST on 8 October, Staffordshire Police said.
Midlands Live: Man stabbed in the neck in Tamworth; van brings runaway bus to a halt
The men, driving a black Vauxhall Corsa, fired at the 47-year-old in the Silkmore Road area before continuing up Radford Bank where the two other men were targeted, near to an Aldi supermarket.
The offenders then drove into Bodmin Avenue where the teenagers were hit.
Police said the firearm was possibly a Remake G363 Rifle, camouflage in colour.