Owner ban after horse 'presumed drowned' in muddy field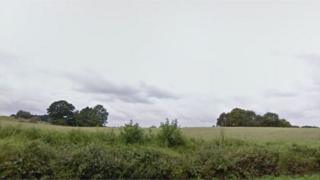 A woman has been banned from keeping horses for three years after one of her animals was found "presumed drowned" in a muddy field in Staffordshire.
Kyla Martin, of Rogers Street, Goldenhill, Stoke-on-Trent, admitted causing unnecessary suffering to her mare before Newcastle magistrates.
The county council said the horse, named Delta, had died after being left unsupervised in a waterlogged field.
Martin, 27, was fined £200 with costs of more than £1,330 on Monday.
The council said the field in Talke had become so flooded earlier this year that its animal health officers had not been able to reach the horse for eight days.
A spokesperson said: "The horse was found underwater and our officers presumed she had drowned, although we can't say for certain."
Councillor Gill Heath, from the authority's trading standards department, said: "People who keep any animal have a duty to ensure they are well cared for and kept free from harm.
"The judge in this case recognised that a horse was left to suffer in totally unsuitable conditions."