New home for man who slept in office after cancer diagnosis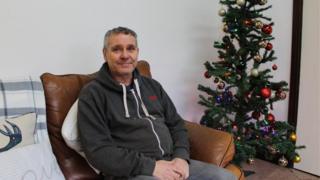 A man who slept in his office after becoming homeless and being diagnosed with prostate cancer has been given the gift of a house in time for Christmas.
Mike Garner, from Stoke-on-Trent, also faced a marital breakdown and the loss of a business contract amid the series of personal blows.
After contacting Citizens Advice, he was helped by charity Emmaus Potteries and now has a rented furnished home.
A private landlord offered a property and Emmaus provided furniture.
Mr Garner said: "When you haven't got your health, you lose the will to fight against the struggles in life.
"I kept thinking there's people worse off than me.
"The help that was chucked at me was unbelievable."
Emmaus Potteries provided him with furniture and a functioning kitchen and a council grant is also helping the 57-year-old cover the rent on the privately-owned property in Cellarhead.
'New start'
"Having a place to call home is so much more important than simply having a roof over your head.
"It's a place to step back from everything that's going on, breathe, and find a way to solve your problems," he said.
Mr Garner, a gas safety engineer, is looking forward to the new year and getting back to work.
He is still waiting to hear if he will need cancer surgery and has appointments in January.
"This is a new start for me and I am so grateful to everyone who has helped to make this happen," he said.