'Attacked' dead puppy found in Newcastle-under-Lyme bin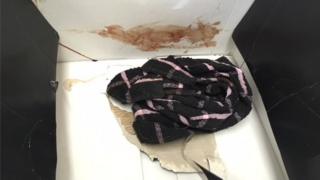 The body of a four-month-old puppy has been found dumped in a bin with a broken neck and leg.
It is thought the Staffordshire bull terrier-type dog, who had blood on his neck and face and puncture wounds, had been attacked prior to its death.
He was found wrapped in fabric inside a Tommee Tippee bottle steamer box in a communal bin in Newcastle-under-Lyme, on Tuesday evening, the RSPCA said.
Officers are appealing for information after the "shocking discovery".
Midlands Live: Steve Rhodes leaves Worcestershire 'with immediate effect'; Inquest opens into death of seven-year-old Hakeem Hussain
The dog was not microchipped so an owner has not been traced.
RSPCA inspector John Groarke said: "The injuries point to the pup having a violent end to his life, possibly after being attacked by another dog."
Anyone with information could contact them in confidence, he added.