Snorkelling benefits cheat on Tamworth must pay £82k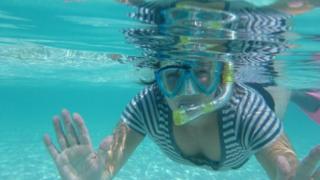 A benefits cheat caught out by holiday photos showing her snorkelling and on a quad bike has been ordered to pay back more than £80,000.
Linda Hoey, 58, was given an 18-month suspended jail term in September, when a Stafford Crown Court judge said she was guilty of "15 years of dishonesty".
Hoey was told to pay back £81,812 and £1,000 costs at the court on Thursday. She was told she could pay £10 a week.
The defendant, of Tamworth, had claimed disability allowance while working.
Midlands Live: Virgin train strikes and Stoke school closures
Hoey, from Amington, had wrongly claimed £65,244 in disability benefits over 15 years and had also used her Motability vehicle to get free travel on the M6 Toll road, amounting to about £15,000, the court heard previously.
The Department for Work and Pensions said she had claimed care and mobility needs for degenerative arthritis and a back problem since 1995.
However, its investigation revealed she had been in paid employment since 1997.
Sentencing judge Michael Elsom said Hoey had told "barefaced lies". Medical evidence found she had "a degree of disability", but she was found to have exaggerated her condition, he said.
She falsely claimed she could barely walk and needed to use furniture for support. But accounts from colleagues said she would carry trays of tea cups at work.