Arrest over petrol sprayed at Rugeley police station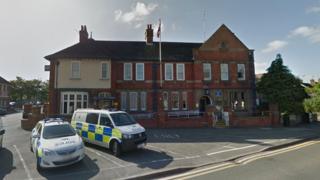 A man has been arrested after police cars and a police station were sprayed with petrol on Christmas Day.
Officers spotted someone squirting fuel from a washing up bottle at the Rugeley site before running off.
A 42-year-old man from the town is being questioned by Staffordshire Police on suspicion of attempted arson with intent to endanger life.
The force said the incident could have been more serious if officers had not disturbed the person they spotted.