Tesco offers customers refunds for 'rotten' turkeys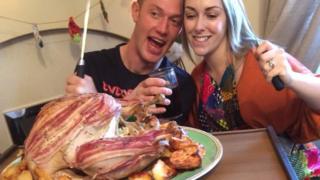 Dozens of Tesco customers have complained turkeys bought from the supermarket for Christmas were "rotten".
Shoppers accused the chain of "ruining" their day, claiming the festive birds were inedible or had made them ill.
Tesco has apologised and offered refunds to those who have complained, but said only a "small proportion" of its turkeys were affected.
Among them was events manager Kirsten Shore, from Stafford.
The 29-year-old was hosting eight guests alongside husband Dan. Her mother had bought and prepared the turkey which was kept in the fridge until it was cooked.
She said it wrecked the meal, which had cost £250, and made guests sick. She took to Twitter to contact Tesco.
She said: "I took a mouthful of turkey and spat it out. It tasted of bleach and everyone else realised the reason everything was a bit funny was because the gravy was made from the giblets.
"I'm not going to lie, I know it sounds ridiculous, but it broke my heart - it ruined the day."
Other complaints came from Craig Spooner, who tweeted: "No Christmas dinner for us this year."
Fellow customer Craig Taylor said: "Tesco well thank you for ruining my Christmas dinner with the rotten turkey you sold us."
A Tesco spokeswoman said it will look to address the complaints.
It said they made up a small proportion of the more than half a million turkeys sold in the run up to Christmas.
You might also like:
She said: "We will get in touch with each customer so we can investigate how these instances may have happened."
The Food Standards Agency added it will take appropriate action if necessary.
It said: "We have no evidence at present to suggest that there is a problem in their supply chain. "