Alton Towers' wooden rollercoaster to open in spring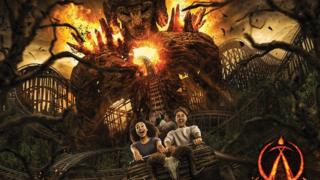 A new rollercoaster is set to open at Alton Towers - believed to be the first wooden track in the UK for 21 years.
The Wicker Man ride will feature a 57.5ft (17.5m) flaming structure, and claimed to be the first rollercoaster to combine wood and fire.
It is the first major ride announced by the Staffordshire theme park since the Smiler ride crash in 2015, which seriously injured five people.
The new £16m rollercoaster is due to open in the spring.
Midlands Live: Man charged with murder over playground stabbing; Cyclist seriously hurt by car pursued by police
Sharing the same name as the 1970s film, the ride will appear to burst into flames as it races through the wicker man structure three times, the theme park said.
However, on social media people have been quick to highlight the use of fire on a wooden rollercoaster.
Chairman of the Roller Coaster Club of Great Britain, Andy Hine, said members had been hoping Alton towers would invest in a wooden rollercoaster "for some time".
The theme park's creative lead, Bradley Wynne, said the hope was visitors would "be blown away by the Wicker Man's scale and delighted by the effects."
The theme park has also been quick to champion its safety, saying it had undergone "rigorous testing and hundreds of training hours for ride operators".
The theme park's operator Merlin Attractions was fined £5m over the Smiler crash in 2015 when two carriages collided.
Vicky Balch, then 19, and Leah Washington, then 17, both lost a leg and 14 others were injured.
During the sentencing hearing in September 2016, Judge Michael Chambers QC described it as a "needless" accident, but acknowledged Alton Towers had taken full and extensive steps to remedy the problems that led to it.