Mother banned from Stoke-on-Trent school over juice row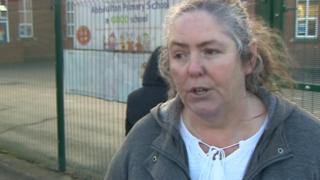 A mother has been banned from a school after she disagreed with a policy banning unhealthy drinks.
Bernadette Finnegan, 48, was sent a text message from Abbey Hulton Primary School in Stoke-on-Trent saying she can no longer be on its grounds.
Miss Finnegan claimed her children were "forced" to tip their juice down the sink or faced losing some of their break time.
The school head teacher said she wanted to "resolve this issue amicably".
Mother-of-three Miss Finnegan, from Bucknall, said the issue began when a letter was sent home telling parents not to put unhealthy things in their children's lunchboxes.
She said she spoke with staff at the school, who told her children were "asked to throw away juice" in reward for an extra 10 minutes on break.
Meetings to discuss the policy further were cancelled before a text was sent to Miss Finnegan saying: "Following legal advice we are issuing you with an interim ban from the premises immediately. A letter outlining details will follow."
Miss Finnegan said: "At the end of the day what is wrong with a bit of zero sugar juice added to water? My daughter is always running about and plays a lot of football, she's not a slob."
She added the school is "discriminating" against pupils with packed lunches as the hot meals on offer include "chips, cake and custard".
Miss Finnegan also said staff were "searching lunchboxes" for food deemed unhealthy.
Head teacher Linda Williams said the changes were made "with the best of intentions".
"One parent was particularly unhappy with this and unfortunately and sadly this has escalated.
"We have offered to meet with the parent to talk this matter through and we would still like to resolve this issue amicably."