Armed man arrested after nine hour Meir police stand-off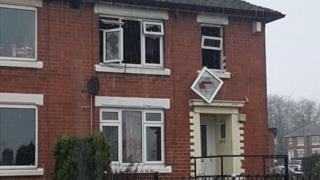 A nine-hour police stand-off in which officers were threatened with a knife has ended in an arrest.
Staffordshire Police attended Leacroft Road in Meir at about 23:00 GMT on Friday after the armed man barricaded himself in a house.
Officers had to use shields for protection, the force said.
A 45-year-old man was arrested on suspicion of damage to a property and public order offences when the stand-off ended at 08:00 GMT.
He at one point went out onto a first floor ledge and specialist negotiators were called to the property.
Ch Insp Karen Stevenson said nobody was hurt and the man was taken to police custody.
"He will be fully assessed so we can not only deal with the criminal matter of what went on but his own needs moving forward," she said.