Stoke-on-Trent school put on lockdown as youths gather outside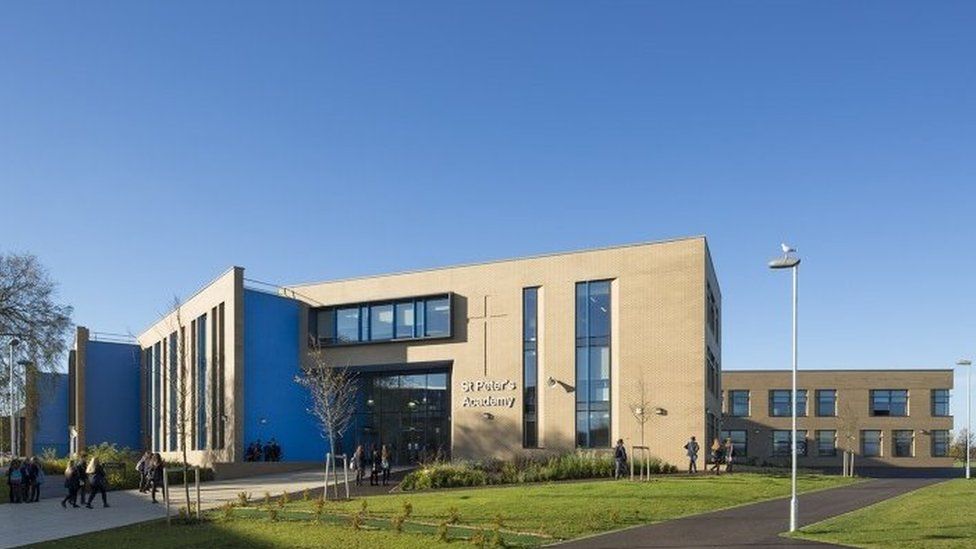 Police have put on extra patrols near a school after it was placed on lockdown amid gang fears.
Parents said pupils at St Peter's Academy in Stoke-on-Trent were told to get under their desks while staff closed classroom blinds as six youths tried to get into the grounds.
The incident took place on Thursday afternoon and followed an attempted assault on two pupils the day before.
Staffordshire Police confirmed it wanted to "reassure pupils and staff".
The 20-minute lockdown took place as the youths, not connected to the school, approached the academy.
Staff put the school on lockdown, contacting the police and letting parents know by text.
Police sent officers to the scene shortly before 15:00 GMT.
One parent, who wished to remain anonymous, said she had considered not sending her child into the school on Friday following the incident.
She said: "My daughter was terrified.
"The children were made to be under the tables with all the blinds closed.
"She called me even though she was told she shouldn't."
Student safety 'paramount'
Parents were told about the incident immediately via text. The school's lockdown policy states that pupils should not use their mobile phones as a "lockdown situation requires silence in order not to alert any possible intruder to the presence and location of people".
Principal Michael Astley said: "The school was put into lockdown because the safety of our students is paramount."
A spokesman for Staffordshire said: "We are continuing to patrol the area outside of the school and be in high visibility to offer reassurance to pupils, parents and staff."
St Peter's Academy has about 900 pupils aged 11 to 16 on its books.
Related Internet Links
The BBC is not responsible for the content of external sites.